Incident Management System
Incident management process is an area belonging to the IT service management. The first goal of incident management is to restore the normal level of service performance and minimize as much as possible the negative impact on the organization so that service quality and availability are maintained.
.
Incidents that can not be resolved quickly by the computer user support, are assigned to a specialist support team. The resolution of the incident should be executed as soon as possible to restore service quickly.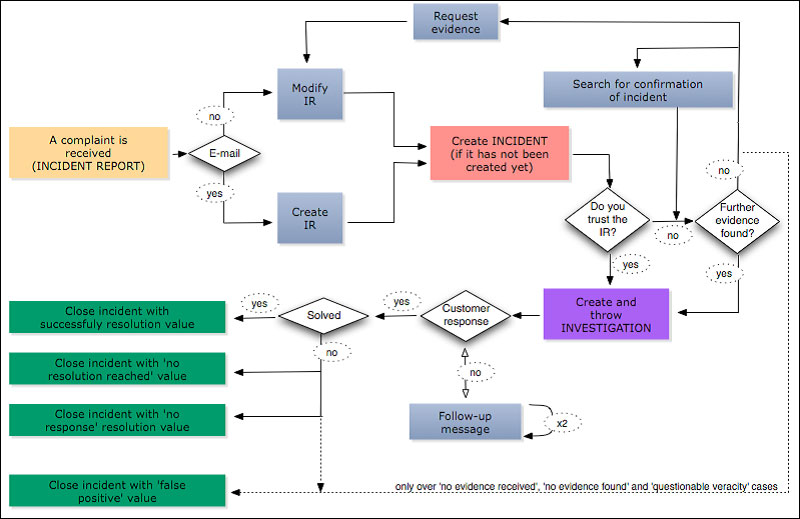 The usual process of incident management is as follows:

Detection and recording of the incident.

Classification and initial support.

Research and diagnostics.

Resolution and recovery.

Closing the incident.

Monitoring, tracking and communication of the incident.
The correct implementation of a management system incidents, as well as the easy fitness of deficniciones thereof, enabling IT organizations to maintain proper delivery of services, Logar compliance in adherence to international benchmarks and meet commitments or to make service delivery levels and deliver the correct metrics for the same.
The solution Postech incident management is indicated for maintenance, user support and monitoring of computer security incidents for any sector. Allows you to define workflows to address issues arising from anomalies in services and equipment.
Some of its features are:
Incident management:

Reception: via mail, inputs by the user from a web form etc. Automatically opens a file and alerts by notification (internal, email or SMS) responsible.

Resolution: attention and closed immediately or planning time by type or urgency. Resource allocation. Re-assignment. Scaling. Lists state and responsible. Delays. Automatic notice who needed. Possibility of Aldair, notes, documents, emails, photos, manuals. Search database knowledge. Search indexed in any item, even within documents. Introduction hours and material used. Billing.

Control: automatic generation and shipping summary of the issue. Reporting and statistics by various criteria: urgency, type, contract, element, technical .. Reports invested hours. Report problematic elements. Filters and reports for periods, people, customers etc.
Preventive maintenance:

Planning: possibility of launching preventive maintenance items or contracts with various periodicities. weekly, monthly, quarterly and annual etc .. Once launched, we have tasks to perform at certain times. We can assign technical default or monthly. Reports and lists of tasks to perform in one set period.

Accomplishment: ads and listings tasks. GANTT charts. Mirroring times used and material. billing and administrative monitoring. Attach documentation, emails etc.

Control: reports of each action taken. Autoship. listings and statistical work done.
Contract Management and elements. SLA:

Inventory: Items organized by different criteria: type, departamente, contracts etc.

SLA: ability to save and control documentation relating to contracts and conditions of service. Reealización of maintenance and interventions in accordance with the conditions reflected in the SLA (times, emergencies, visibilities).

Other.

Agenda. Database of companies and contacts.

Calendar activities.

Mailing.
Integrating e-mail and SMS:

Notifications to third parties via email of actions and tasks.

Automatic reception of mails. SMS shipping.

Links: with Quality Management or Project Management. Links to other proprietary systems by specific developments: ERP, BI, etc. Blance Score Card.
Why choose our solution:

Centralizing information in an orderly manner.

Storing all your applications in one place.

Reducing the workload of support staff.

Enriching the knowledge base with each new incident.

Adaptation to each organization with multiple settings.

Tracking your support team with detailed reports.

Access anytime, anywhere.
We invite you to contact our sales department mail ventas@postech.com.mx or using our form contact online and so allow us to support you to develop a solution tailored to their needs in information technology and communications.