Best practices and methodology implementation
This is the set of processes, procedures, guidelines and policies that guide the way how the operation is supported in TI.
This model is developed under the philosophy that processes should be aligned to best practices in this case is used and implemented ITIL methodology are best embedded in BPM and document management practices. All this automated by tools to enable BPM to effectively operations of the Software Factory deintegración naturally run through aligned processes defined tools.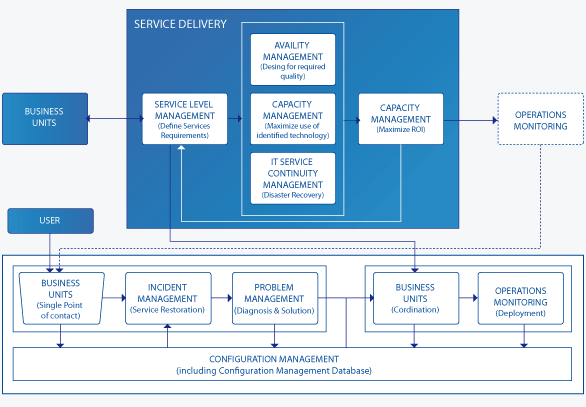 Level of Detail
The following diagram shows the existing alignment is shown from the highest level that is model dictating what should be done, through the methodology that tells us how to do it and landing him with the tools that can enable processes for tasks day.

Implementation
The factors we consider in our implementations include the following dimensions:

Vision and Strategy: The global address that relates the role and position of IT within the business.

Address: The goals and IT goals for the realization of the strategy.

Processes: The processes defined to achieve the objectives and goals defined.

People and Culture: Features and necessary skills on staff to meet the defined processes.

Culture: The behavior and attitude required in relation to the role of IT within the business.

Technology: infrastructure and technological tools necessary to enable processes.
As in all implementation processes we consider the following:
PEOPLE

Provides clarity on expectations of improvement by management.

Offers support elements for the adoption of the model.

Define roles and wide scope of vision of the different positions.

It is based on team collaboration and horizontal integration of tasks and shared commitments.

Generate feelings of fulfillment of goals and satisfactory results.

Look for the recognition of the Organization in response to the improvement in performance.
PROCESS

Based on Models CMMI, ITIL and PMBOK.

Evolve tasks current roles.

Enables rapid adoption but is flexible on establishing best practices for the customer.

Allows achieve in a short time a defined process and known to all model to a proactive and continuous improvement.

Provides a common language within IT.

Enables the definition of roles, deliverables and monitoring for IT service management vendors.
TECHNOLOGY

Enabling processes through technology.

Technological solution resolved through tool integration.

Tool Selection based on coverage models.

Selection based on the ability to integrate the ecosystem of the solution.

Credibility based on experience (hands on), not in newsrooms cabinet.

Ability to support partners.

Objectives: Efficiency, Governance and Control

Ease of use and adoption.

Process Automation: controlled, consistent and repeatable process.
We invite you to contact our sales department mail ventas@postech.com.mx or using our form contact online and so allow us to support you to develop a solution tailored to their needs in information technology and communications.